As low oil content of soybeans, using solvent extraction process to make soybean oil is very popular in cooking oil industry. Why?Because the biggest advantage of solvent extraction method is that it can make the residual oil rate less than 1%.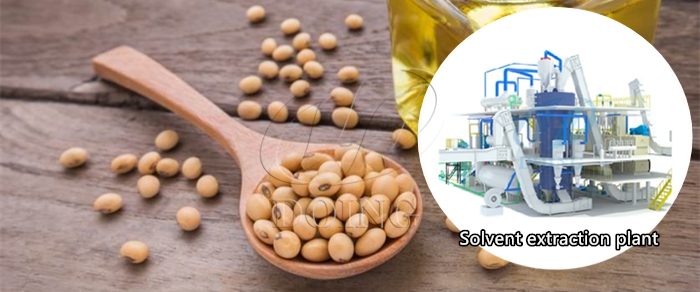 Using solvent extraction process to make soybean oil is very popular
If you want to manufacture soybean oil by solvent extraction method, the input capacity of soybeans each day had better more than 30 tons, for the cost of soybean oil solvent extraction machine is higher than soybean oil press machine. And then you need to consider what machines you need to buy.
As a cooking oil machine manufacturer, Henan Doing Company can design the whole line of soybean oil manufacturing process based on solvent extraction method for you. It mainly contains two sections: soybean pretreatment section and soybean oil solvent extraction section.
1. Soybean pretreatment process
The pretreatment process of soybean is necessary not only for pressing method, but also for solvent extraction method. Pretreatment process is mainly to make the soybean clean and reach the most suitable condition for the next processing, including cleaning machine, crushing machine, softening machine, flaking machine, cooking machine, etc.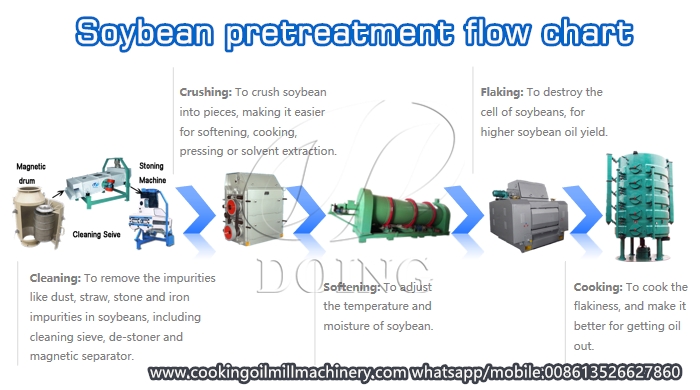 Pretreatment machines used to making soybean
Besides, the soybean pretreatment process can be adjusted according to your requirment on final products. [ Related reading: How to choose soybean oil production process based on final products?]
2. Soybean oil solvent extraction process
The solvent extraction process of soybean oil contains four section: oil extraction, desolventization, mixed oil stripping and steaming, solvent recycling.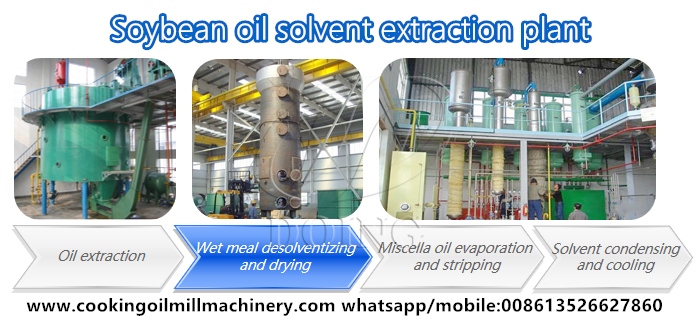 Four sections in soybean oil solvent extraction plant
Oil extraction section: Use solvent (n-hexane) to extract the oil from soybeans, and then get two kinds of products. One is wet meal with solvent, the other is mixed oil (solvent and soybean oil).
Desolventization section (DTDC System): The main equipment, desolventizing-toasting-drying-cooling tower will separate the solvent from wet meal. Then the meal can be packed to sell as animal feed.
Mixed oil stripping and steaming section: Through 1st evaporator, 2nd evaporator and stripping tower, the mixed oil can be separated into two parts. Solvent will be sent into the last section to recycle.
Solvent recycling section: Through cooling, recycle the solvent into solvent turnover tank.
In the end, I want to remind you that the soybean oil produced by soybean oil solvent extraction process need to be refined, and then it can be sold in the supermarket. Henan Doing Company can also provide different capacities soybean oil refining machine. Welcome to contact us!
contact us
Kindly leave your message in below form. Our engineer will contact you ASAP once we got your message.