This question is the most customers' concern, especially those want to start cooking oil production business. Cooking oil is the essential consumable in people's life, and with the improvement of living standard, the demand of cooking oil is also growing. Then is the cooking oil production business profitable? The answer is yes. But it depends on many factors, such as your finances, how much agriculture you have available, the equipment costs, payroll, rent or mortgage of production space, cost of oilseeds, weather conditions... But if you find the right oilseeds and a niche market, you could succeed.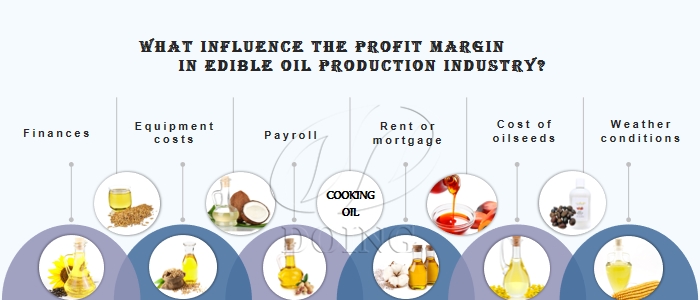 The factors influence the cooking oil industry profit margin
Besides, you need research your local conditions. Because the market condition of every country's cooking oil production industry is different. For example in China, the cooking oil production industry is almost dominated by a few big companies. If you want to step in this industry, you need to set up a big scale edible oil production line, find a way to offer a product that is new to market and appealing to shoppers in some way and increase efforts to promote the brand.
Of course, not all countries is like that in China. In some countries, cooking oil production industry is booming, and need many investors to start. For everyone, it is a good chance to make money. You can start from setting up a small scale cooking oil mill, and after having more capital, you can expand your oil mill.
In most African countries, cooking oil production industries are all booming. There are not only plenty of raw materials, great market demand, but government support. For example in Nigeria, palm oil, palm kernel oil, groundnut oil production business are all promising. Even to buy a set of small palm oil press machine to extract crude palm oil, and then to sell the CPO to other people can help you make money.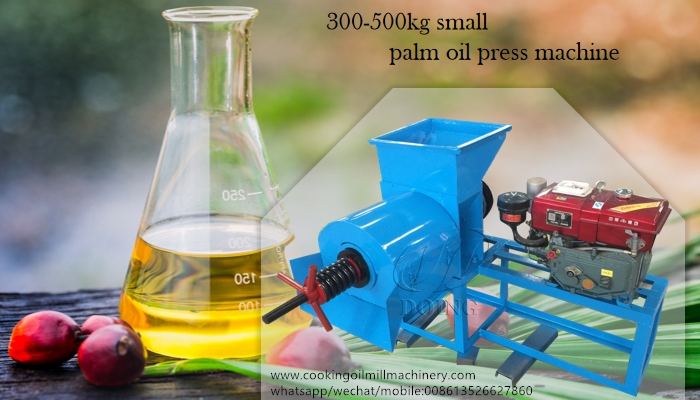 Small palm oil press machine of Doing Company
Our Henan Doing Company has finished many project all over the world, especially in Africa. Our project managers and engineers are very familiar with the conditions of each countries in Africa, who can help you to design suitable proposal based on your requirements. In addition, we has built branch and overseas warehouse in Nigeria, welcome you to visit. Good luck with your venture! If need, welcome you to contact us -- Henan Doing Mechanical Equipment Co., Ltd.
contact us
Kindly leave your message in below form. Our engineer will contact you ASAP once we got your message.