This is a question hard to answer, because there are many factors which will influence the oil yield rate of sunflower oil in production process, such as the variety of sunflower seeds, processing method, machine type, worker operation, etc.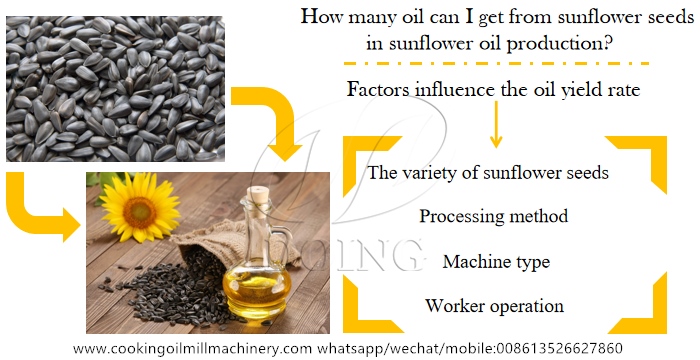 Four factors influence the sunflower oil yield rate
If you really want a exact number, I can give you an example.
1. If the sunflower seeds is 100 tons oil sunflower seeds, which oil content is about 50%-65%. We can assume the oil content of your sunflower seeds is 60%, then the oil in 100 tons oil sunflower seeds is about 60 tons.
2. If you use complete sunflower oil press line, the residual oil rate will be 6%-7%. We can assume the residual oil rate is 6%, then you can get about 54 tons sunflower oil.

The complete line of sunflower oil production
3. If you use solvent extraction method, the residual oil rate will be less than 1%. So you can get about 59 tons sunflower oil. But the oil contains pressed oil and extracted oil, because the oil content of sunflower seeds is very high, so generally sunflower seeds need pretretament and pre-pressing, to get pressed sunflower oil and pressed sunflower seed cakes. And then the sunflower seed cakes are sent to sunflower oil solvent extraction plant to get extracted sunflower oil.
These are all the theoretical result. In actual sunflower oil production process, there will be oil loss in each process, more and less. And the sunflower oil get from pressing line and solvent extraction plant both need refining and dewaxing, and then you can get refined sunflower oil. In refining and dewaxing process, there also be oil loss. So the exact number of refined sunflower oil you can get can not be given.
However, professional engineers can try their best to low down the oil loss, and design suitable sunflower oil production process for you. If you need sunflower oil processing machines, welcome to contact us -- Henan Doing Company!
contact us
Kindly leave your message in below form. Our engineer will contact you ASAP once we got your message.