There are two kinds of methods to extract sunflower oil in factory. The first method is using one oil press machine to extract sunflower oil directly. The second method is using complete sunflower oil production line.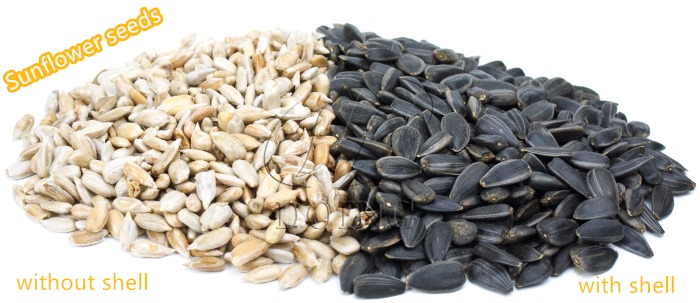 Sunflower seeds with shell and without shell
1- Sunflower oil press machine: it is suitable for the small scale capacity from 100kg/hour to 500kg/hour. If your sunflower seeds with shells, you can remove the shells in advance, the husking machine can do it.
This method is low cost, and easy to operate, if you want to start the sunflower oil business as a small beginning, it's a good choice.
2- Complete sunflower oil production line: it is suitable for the middle and large input capacity from 10tons/day to 500tons/day.
The processing steps in large sunflower oil factory are as follows: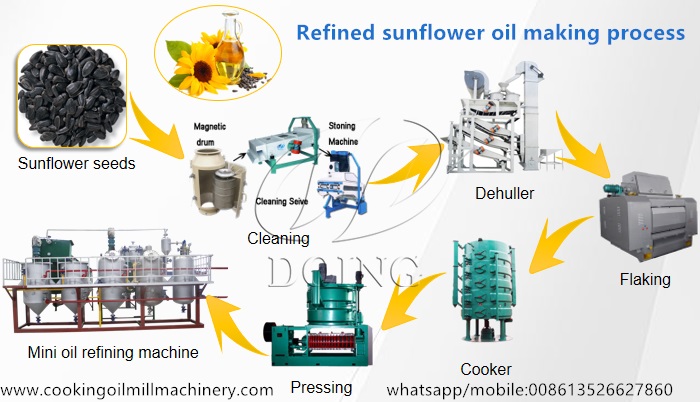 Sunflower oil making process flow chart
1) Husking: Remove the shells of the sunflower seeds, becuase shells will increase the residual oil rate.
2) Cleaning: Clean the stone, metal, and other impurities in the sunflower seeds.
3) Cooking: Adjust the moisture and temperature of the sunflower seed.
4) Oil pressing: Use the sunflower oil press machine to press the oil.
5) Filter: Remove the impurities in the crude sunflower oil.
7) Refinery: After pressing you can get the crude sunflower oil, which isn't edible directly after filter. If you want to get higher quality and pure refined sunflower oil, it need another process--sunflower oil refining process.
If you are interested in extracting the sunflower oil, please contact us without hesitate. We have engaged in manufacturing of the cooking oil mill machinery many years, and built many projects in the world.
Henan Doing Company has professional engineers and factory which will supply you the most suitable proposal and high quality machines.
contact us
Kindly leave your message in below form. Our engineer will contact you ASAP once we got your message.