The most common methods of cooking oil processing are pressing method and solvent extraction method. There are some differences between pressing method and solvent extraction method.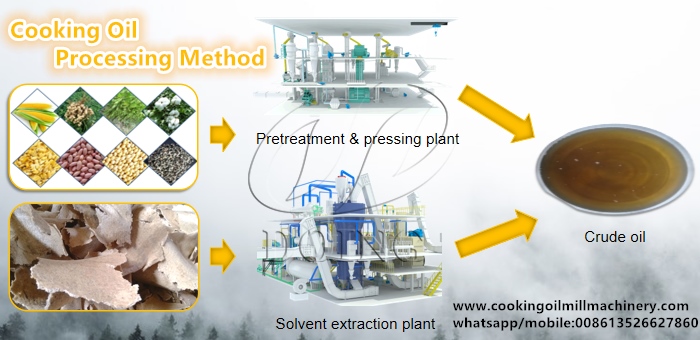 Two methods of processing cooking oil
Below are some factors for your reference:
1. Different processing technology:
Pressing is using mechanical pressing to get crude oil out, while solvent extraction is using N-hexane to extract the crude oil out, which belongs to chemical method. No matter using pressing method or solvent extraction method, the final oil you get is crude oil, which need to be refined into edible oil.
2. Different oil residue rate:
After pressing, usually the oil residue in the cake is around 6-7%. By using the solvent extraction method, the oil residue rate can be lower than 1%.
3. Different application range:
Both pressing and solvent extraction can be used to process common oil seeds like soybean, peanut, rapeseed, sunflower, sesame etc.
Relatively, solvent extraction is more suitable for low oil content rate oil seeds like soybean and rice bran for input capacity above 30T/D. As for high oil content rate oil seeds like peanut, sunflower and sesame for input capacity 1-100T/D, it is better to press first, then choose whether adding solvent extraction or not.
4. Different machine cost:
For same input capacity, usually solvent extraction method costs more than pressing method. Because solvent extraction plant is anti-explosion type workshop, which means all the pumps and electric motor inside the plant is anti-explosion type. You can choose the different processing methods according to your budget.
In general, clients can choose different oil processing method according to their different oil seeds and input capacity. Henan Doing Group has professional engineers who can give you some useful advice on choosing the suitable method. If you want to set up the oil factory, please contact us for more details and information.
contact us
Kindly leave your message in below form. Our engineer will contact you ASAP once we got your message.