Groundnut oil has the large demands in Africa, and the groundnut oil production plant is developing fast there. Many customers want to know more about this business but without much knowledge. Here are some questions frequently asked when we service for the customers.
Question 1: Is there any market for groundnut oil in Africa?
Answers: In many parts of Africa, peanuts are usually known as groundnuts because the nut pods grow underground. Groundnuts play an important nutritional role in many parts of Africa, since they have good fats and contain 7 grams of protein which helps combat child malnutrition. They grow well in semi-arid regions and are a staple food as well as a revenue source for farmers.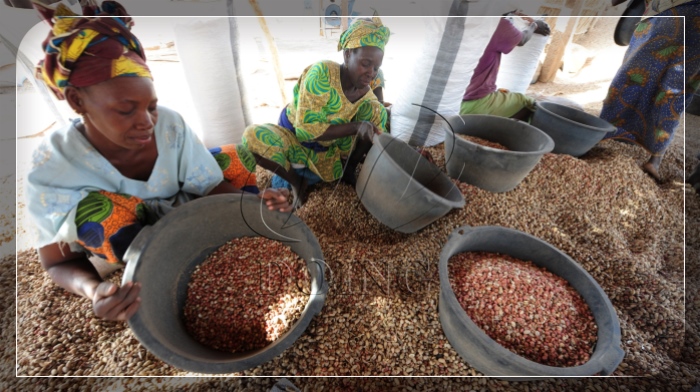 The women husk the groundnut and to select by hand in Africa
In West Africa, groundnuts are used in authentic soups, stew or marinades whereas peanut butter is used as a thickener in many dishes. Groundnut oil is also popular along with palm and coconut oils. West Africans love hot spices and peanuts in their food! On the other hand, in North Africa groundnuts are mainly used in marinades and rubs to add flavor.
Many of African countries don't process groundnut oil. But there are a few countries that do groundnut oil processing for local use and exportation. These countries include Senegal, Nigeria, South Africa, Ghana, Togo, Tanzania and so on.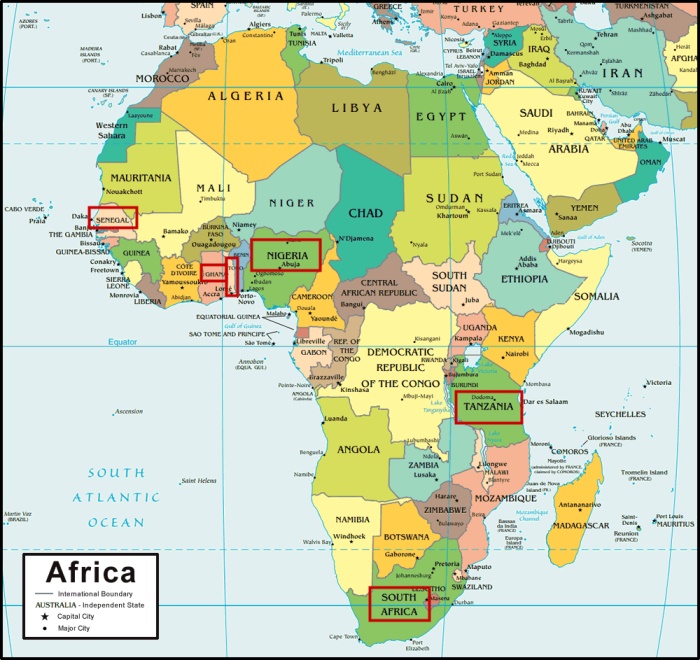 Only a few countries that do groundnut oil processing for local use and exportation
Therefore, the African market is an uprising market. With economic development and the growth of edible oil demands, it requires more high quality edible groundnut oil. So the groundnut oil will play a more important role in the African market.
Question 2: Is it easy to set up a groundnut oil processing factory?
Answers: There are some elements needed to be considered before engaging into this business: the market capacity, the cheap land, the cheap labour, and the stable material supply.
The increasing consumption of groundnut oil gives a large market, and it is estimated that a lot of fertile land can produce groundnut about 1 ton/hectare. But many of African countries carry out groundnuts farming with aim of making snacks by roasting and frying the groundnuts, making butter paste through crashing method, but rarely for groundnut/peanut oil production. So almost all the African government support setting up cooking oil processing factory to produce groundnut oil, soybean oil, palm oil, palm kernel oil, etc.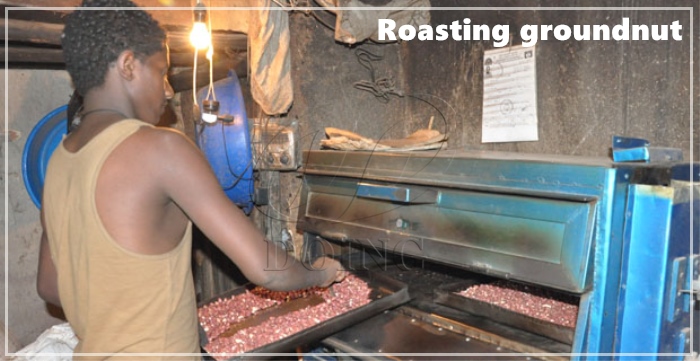 Roasting groundnut to sell as snacks
If you want to set up a groundnut oil processing factory, you need know the groundnut oil processing process and what machines are needed. The groundnut oil processing process mainly involves groundnut preparation, groundnut oil pressing and refining. The machines generally used in small scale groundnut oil processing factory in Africa comprises of the dehulling machine or decorticator, cleaning machine, cooking machine, oil expeller, oil filter press and oil refining machine. These machines are very easy to operate, even women can do the work.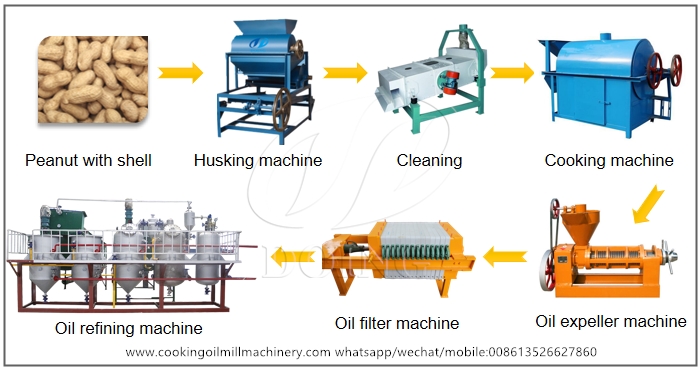 The machines generally used in small scale groundnut oil processing factory in Africa
Therefore, through Africa market where the capacity is growing fast, with cheap land and manpower, whether buying materials from market or growing them by farming, it is easy to set up the groundnut oil processing plant, whether in a small scale or large.
Question 3: Is groundnut oil business profitable?
Answers: The groundnut oil production business is a very profitable business. It is a less capital-intensive business. Due to its various nutrition and health benefits, the product is very demanding in whole Nigeria or other African countries. It is used in varies areas like food, health care, or even skincare. The high rate of its consumption these days is an opportunity for investors to take advantage and embrace groundnut processing business.
contact us
Kindly leave your message in below form. Our engineer will contact you ASAP once we got your message.