The capacities of edible oil production line we can provide for you are from 10tpd to 2000tpd. But you should know it refers to input capacity. Henan Doing Company classifies them to small scale, medium scale and large scale. Small scale edible oil production line is from 10tpd to 30tpd, medium scale is 30-500tpd, and large scale is 500-2000tpd. They can be applied to process sunflower seeds, soybean, rice bran, cotton seeds, corn germ, safflower, groundnut, etc.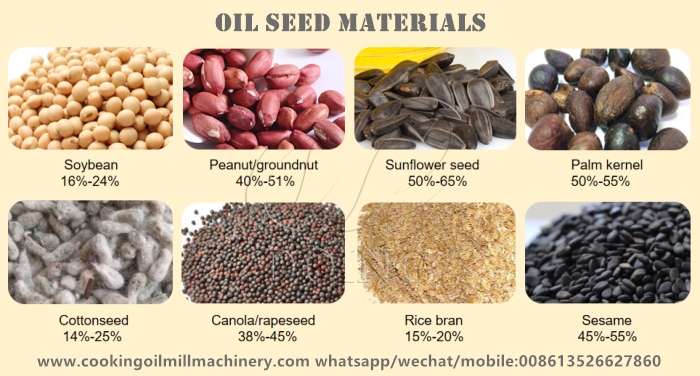 The oil seed materials our equipment can process
Small scale edible oil production line:
Generally, oil seeds that we common use all can be processed in small scale edible oil production line. And starting with small scale, the cost is relatively low. Besides, except for rice bran, 10-30tpd edible oil production line is suitable for mechanical press technology. Because the cost of edible oil solvent extraction plant is higher than that of mechanical way. Why rice bran is different from other oil seeds?
The oil content of rice bran is very low and difficult to extract. From the perspective of return on investment, rice bran is not suitable for small scale processing. If you adopt pressing method to process rice bran in such small scale plant, the cost you invest will higher than the profit you can get. So it is not economical. If you want to do rice bran oil production line project, it's better to start with over 30tpd and use solvent extraction technology. (Related reading: rice bran oil processing plant)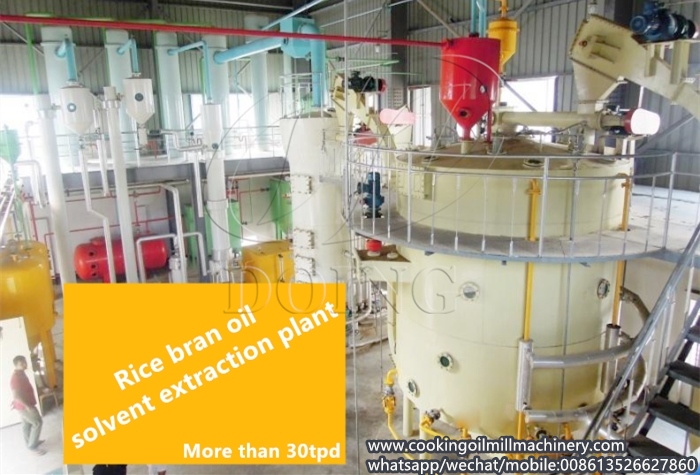 Rice bran oil solvent extraction plant is often suitable for more than 30tpd factory
Medium scale edible oil production line:
Like 30-500tpd this medium scale edible oil production line, some times customers want to process more than one kind of oil seeds, like soybean, groundnut, sunflower seeds, sesame and so on. Though each oil seed processing line need equip different equipment based on its special feature, if you need process multiple oil seeds together, Henan Doing Mechanical Equipment Co.,ltd engineer team could make specialized plan for you. Only need tell us what method you want, pressing way or solvent extraction way?
Large scale edible oil production line:
Generally speaking, large scale 500-2000tpd edible oil production line contains three or four workshops: pretreatment and pre-pressing workshop, solvent extraction workshop, refinery workshop and fractionation/ dewaxing workshop. Many large capacity edible oil production line are turnkey projects, controlled by government, or factory owner wants to reform old equipment. Like this large-invest projects you need consider more elements. We Doing Company can offer you guide suggestions for your edible oil production projects.
If you want to start edible oil production business, you can according to the introduction above to choose what capacity and what method you want. Or contact us directly, and Henan Doing Company will offer you best service and professional suggestion.
contact us
Kindly leave your message in below form. Our engineer will contact you ASAP once we got your message.